The following article will introduce applications to help you handle office tasks quickly right on your phone. Subscribe for details!
In the office daily, there will be many times when you want to find applications to help you work smoothly with documents piled up in your head, and this article will help you choose 6 Great apps that all offices trust.
right now!
PDF All – Best PDF Creator for Business Applications
WPS Office
OfficeSuite + PDF Editor
Polaris Office
Office Document
Microsoft Office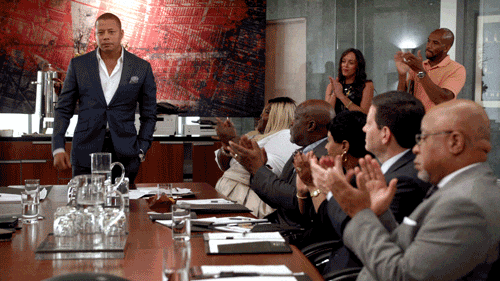 1. PDF All – Best PDF Creator for Business Applications
PDF All is a useful app to create, edit, read and share PDF files. You want a free PDF reader? Try PDF All.
Features of PDF All:
1.PDF Creator:
PDF All helps to create new PDF files from Photos, Web, Scan documents then share via Email, Dropbox, iCloud, Dropbox, Google Drive, iBooks. Quickly use PDF All app to insert all category files.
Specially, you can apply Grid layout with multiple photos in one page. You can also fill the text, photo and description of the PDF page.
2. PDF Tools:
Quickly access PDFs shared for viewing or signing (add signature).
Merge Multiple PDF files.
Split PDF.
Arrange the PDF page as you want.
Fill text, photo to the PDF file.
Set Password for PDFs.
Remove Password from PDFs.
Delete page.
3. PDF Reader
Quickly open and view PDF documents.
Search, scroll, and zoom in and out.
4. Sync and Share
Connect to your iCloud Drive, Google Drive account to access files across devices.
Support Sync/Share to all Cloud Storage: iCloud Drive, OneDrive, Google Drive, Dropbox, Box…
Share via other apps: WhatsApp, Messenger…
Share via Email.
5. PDF Annotation:
Take annotation/ note in PDF page.
Draw everything in PDF page as you want.
2. WPS Office
WPS Office is a very small, high-performance, multifunctional free office application that integrates Memo, Documents, Spreadsheets, and Presentations. This application is fully compatible with Microsoft Office files, simple user interface, intuitive and unique touch experience. At the same time, the application also supports document encryption, helping to ensure the safety of your documents and data.
See more details and download WPS Office apps to your phone here:WPS Office: Create and read word, pdf, excel sheets, slidesFreeTools, Office applicationsPublisher: KINGSOFT OFFICE SOFTWARE CORPORATION LIMITED 2910202 views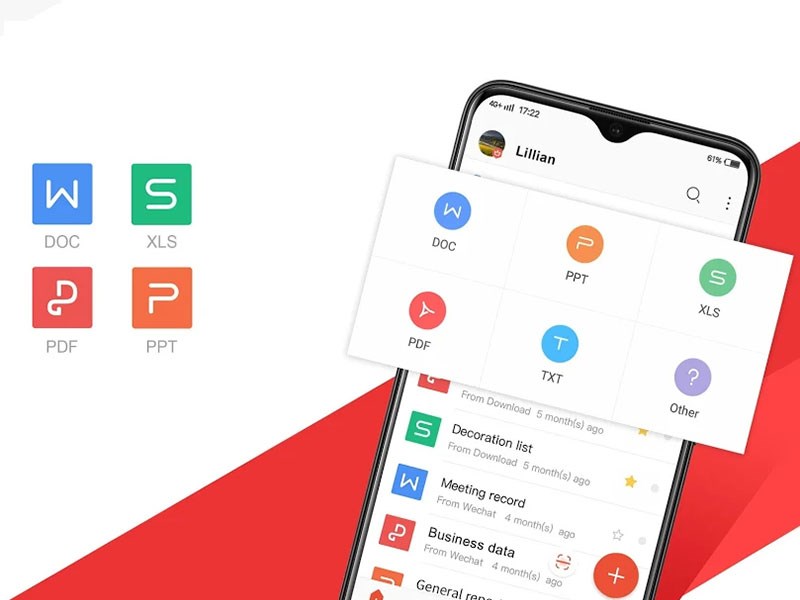 3. OfficeSuite + PDF Editor
OfficeSuite allows you to easily view, edit and create Word, Excel and PowerPoint documents, and perform advanced PDF operations. It is also fully compatible with Microsoft file formats. The app also supports integration with File Commander for advanced synchronization, quick and easy access to local and remote files.
See more details and download the application here:OfficeSuite + PDF Editor – Convenient office applicationFreeBusiness, Office applicationsPublisher: MobiSystems, Inc.603 views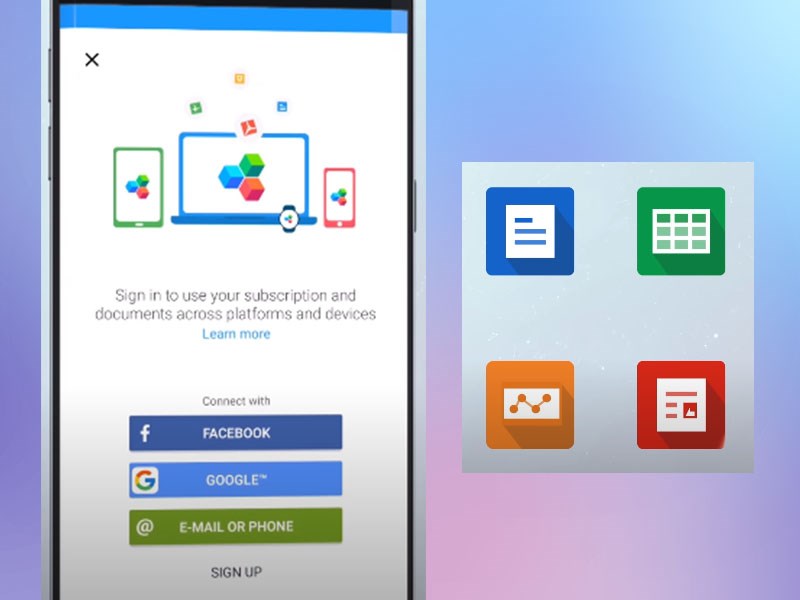 4. Polaris Office
Polaris Office is the office application for mobile devices, compact, used for a full range of documents. The application provides 24 templates for free, 20 diverse 2D / 3D charts, 37 slide transition effects, 173 different graphics and 300 spreadsheet formulas. You also don't need to unzip zip files on your Android device anymore because there is Polaris Office that makes it easy to open and read all types of documents.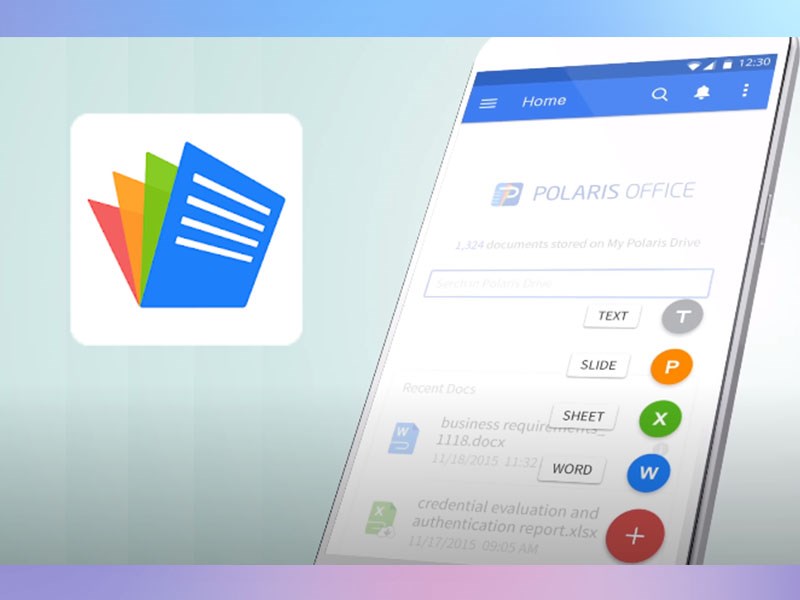 5. Office Document
Office Document is a tool that allows you to perform complete word processing functions for free. You can quickly create, edit, view, and present documents right from your mobile device. The application supports many different file formats and allows you to easily handle different tasks at the same time.
Link to download the application to your Android phone .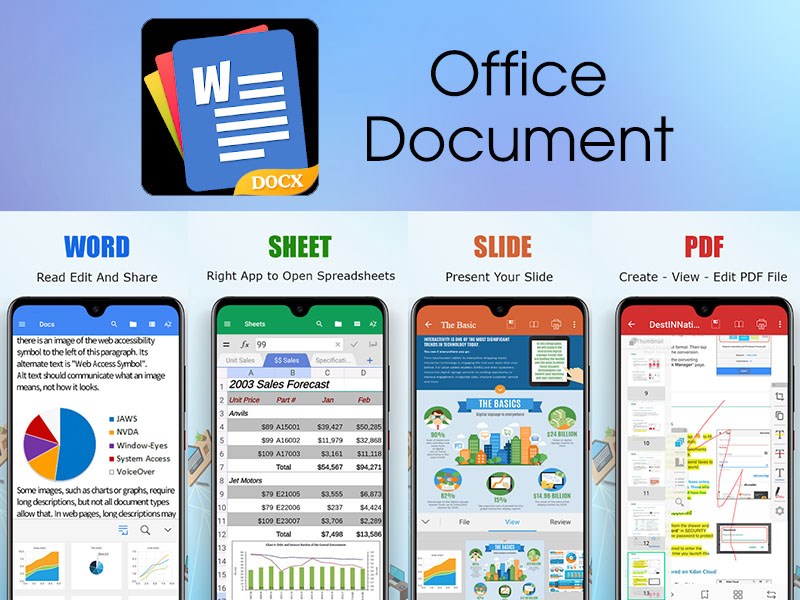 6. Microsoft Office
Microsoft Office is designed so that you can easily use it on your mobile device, be simpler but powerful, anytime, anywhere. Word, Excel, and PowerPoint, the most commonly used tools, come together in one application. You can store documents in the cloud for the most convenient use of your documents.